New Zealand's goal is to eradicate new HIV infections by 2025. PrEP is part of a 4-pronged strategy to prevent new HIV infection in high-risk people, which includes1:
Consistent and correct use of condoms.
Regular testing for HIV.
Early treatment of HIV (to reduce viral load to undetectable and reduce the risk of HIV transmission during unprotected sex).
Targeted use of PrEP for high-risk groups, such as MSM who regularly have condomless sex or people with a partner with a detectable HIV viral load.
This MedCase considers how to renew prescriptions for patients already taking HIV PrEP, with a discussion of current issues for GPs to consider.
Mr Z is a 33-year-old gay man who attends your practice irregularly. He comes to see you on a Tuesday morning asking for a repeat of his PrEP medication.
You are aware Mr Z is gay and have previously seen him for sexual health checks plus treatment of gonorrhoea last year. However, you were unaware that he had started taking PrEP, which he tells you he started 3 months ago after visiting a sexual health clinic in another city with his partner. He tells you he was advised he could get ongoing PrEP prescriptions from his usual GP.
Mr Z is otherwise well. He has a history of binge alcohol drinking and occasional use of marijuana. He does not smoke.
What do you do next?
What is PrEP and who can have it?
Human immunodeficiency virus (HIV) Pre-Exposure Prophylaxis (PrEP) is a daily oral tablet that can prevent 99% of new HIV infections when used correctly. PrEP tablets contain emtricitabine and tenofovir disoproxil, which block a key step in the HIV replication cycle.2
New Zealand was one of the first countries in the world to fund oral PrEP in March, 2018. The first licensed PrEP medication in NZ was emtricitabine and tenofovir disoproxil (brand name: Truvada™). A new, generic version of PrEP (brand name: Teva) is now available and replaces Truvada from 1 September 2019.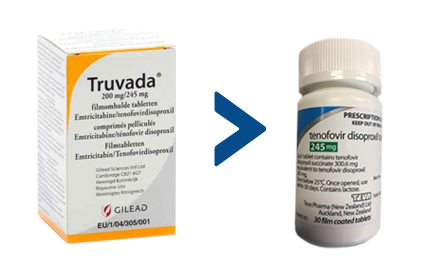 Fully subsidised PrEP is available to patients under Special Authority (SA), which is valid for three months. Patients are eligible if they meet the SA criteria (see here for the full Pharmac criteria):
Male or transgender; AND
Has sex with males; AND
Likely to have multiple episodes of anal intercourse without condoms in the next three months
PLUS, at least one of the following in the last three months:
At least one episode of receptive anal intercourse with a male partner without condoms; or
A diagnosis of rectal chlamydia, rectal gonorrhoea or infectious syphilis; or
Use of methamphetamine.
OR
Any patient with a regular partner who has HIV infection; AND
The partner has a detectable viral load or is untreated for HIV; AND
Condoms are not consistently used.
First PrEP prescription
The initial SA application for PrEP must be made by a named HIV specialist, or on their recommendation. A face-to-face consultation might not be required, depending on local pathways and protocols; recommendation can be requested via electronic referral once pre-treatment testing is complete. See the bpacnz How-to guide for advice on prescribing PrEP for the first time.
The patient must have tested negative for HIV within 2 weeks of starting PrEP. In practice, the process to get SA approval can take longer than 2 weeks, so patients may need to return for a second HIV test to confirm a negative result before they collect their PrEP prescription. This is an important step, as using PrEP in HIV-positive patients equates to an ineffective two-drug treatment regimen that may propagate multi-drug resistant HIV.
Additionally, if there was a risk exposure only a few days before starting PrEP, the patient may need to return at 1 month for another HIV test, in case they were seroconverting at the time of the previous test. Other recommended tests at initiation and follow-up are summarised in the BPAC table. Here you can also find information about using PrEP in patients with concomitant infections such as STIs or chronic hepatitis, or in patients with impaired renal function (PrEP is contraindicated in people with an eGFR < 60mL/min/m2).
Renewing PrEP prescriptions
PrEP renewals can be done by GPs if the following criteria are met:
The prescriber must have a current knowledge of safety issues and be competent to prescribe PrEP; AND
The patient must:

Continue to meet all of the criteria as per the initial SA application; AND
Be confirmed HIV negative in the past two weeks and have had a full STI screen, including syphilis testing; AND
Have had renal testing (creatinine, phosphate, urine dipstick and urine protein:creatinine ratio (PCR) in the past 12 months; AND
Be advised on the risk of infection with STIs and how to reduce these risks (e.g. condom use).
There is no mandatory training requirement for GPs to prescribe PrEP, but the online learning module offered by the Australasian Society for HIV, Viral Hepatitis and Sexual Health Medicine (ASHM) is recommended.
For other clinical education resources, see the New Zealand AIDS Foundation  and the Pharmac websites.
You take a sexual history from Mr Z. He has sex with males, and though he has a regular partner he also has casual partners. He can recall at least two instances of receptive anal sex with a casual partner without condoms in the last three months.
He does not use methamphetamine and has not had an STI diagnosed within the last three months.
You explain to Mr Z that he still meets the criteria for PrEP, but before you can issue the renewal you need to ask some more questions and take some tests.
Getting a good PrEP history
At each renewal consultation, ask about:
Sexual history. In particular, ask MSM patients whether they have had anal intercourse without condoms, and the likelihood of this happening in the future; this is important to establish that they still meet criteria for funded PrEP treatment. Check  out the bpacnz tips on taking a complete sexual history.
Symptoms of STIs. Remember, STIs hunt in packs: if one is present, look for others.
Condom use. PrEP does not protect against other STIs. Give advice on the correct and consistent use of condoms (see:bpacnz Condoms: Advising on the options)
How is PrEP being taken? It is most effective when taken at the same time each day. Ask about missed doses and give advice on how to manage these (see bpacnz PrEP guide). If the patient is taking PrEP intermittently, advise that the level of protection will be reduced.
Ask about use of non-steroidal anti-inflammatory drugs (NSAIDs), including over-the-counter preparations. In PrEP users, NSAIDs can cause a transient decline in renal function which may be detected on renal function tests at the time of SA renewal:

Suggest that patients buy their medicines from the same pharmacy where they collect their PrEP, so that they can discuss any potential interactions with the pharmacist.
You ask how Mr Z is tolerating PrEP. He initially had an upset tummy, but this has settled. He takes the tablet every morning before brushing his teeth. He has missed a dose sometimes on weekends, but has managed to take it later that same day.
He has not started taking any new medicines and does not use any OTC medicines. You advise him to check with either you or the pharmacist who dispenses PrEP before taking ibuprofen or any similar medications.  
You discuss condom use. You explain that PrEP does not prevent infection with STIs and encourage Mr Z to use condoms with every partner.
Mr Z has no symptoms of an STI at present, so you move on to examination and investigations.
Examinations and investigations
A useful schedule of recommended laboratory testing can be found in the bpacnz PrEP guide. An STI screen should be completed at every visit, including blood tests for HIV and syphilis, plus swabs for chlamydia and gonorrhoea (rectal, throat, and/or urogenital as appropriate), as well as a pregnancy test in people of child-bearing potential.
Additionally, at the first renewal visit, it is also necessary to test:
Urine dipstick for protein (if positive, request a urine protein:creatinine ratio [PCR]).
eGFR, phosphate, albumin:creatinine ratio (ACR) (if not already testing the urine PCR)
Other tests may be required at renewal visits (full blood count, liver function tests, hepatitis A, B or C as required based on initial results).
You examine Mr Z and find no signs of an STI. Since he is asymptomatic, a urethral swab is not indicated, but you ask him to provide a first-catch urine sample for nucleic acid amplification testing (NAAT) for chlamydia and gonorrhoea, and you also take rectal and throat swabs. His urine dipstick is negative for protein, so you do not send it away for PCR. 
Mr Z's previous blood test results showed a normal full blood count and liver function tests with eGFR of 98 mL/min/1.73m2. As this is the first renewal visit, you repeat the eGFR, phosphate and ACR; if the results are normal they won't need retesting for another 6 months.
Mr Z is immune to hepatitis A and B. He was negative for hepatitis C, so you set a recall for this at 12 months. You also order HIV and syphilis blood tests to complete the STI screen.
Mr Z's test results return a few days later. He is negative for HIV and other STIs, and other blood tests are normal with eGFR remaining >90 mL/min/1.73m2. You complete the SA renewal form, and it is approved. Your nurse phones Mr Z and you arrange for him to collect his prescription from your nearest PrEP pharmacy.
Tips and tricks for perfect PrEP prescribing
Is PrEP working in New Zealand? Yes, but…
New HIV infections are decreasing in New Zealand, with 178 people diagnosed in 2018,3 down from 197 people in 2017.4
Uptake of PrEP is increasing, with renewal prescriptions now outnumbering initial applications. However, some new and unintended issues have arisen due to PrEP use.5
Inequitable benefits and barriers to PrEP
The decline in new HIV infections so far is limited mainly to men who have sex with men (MSM), and in particular to 'privileged' MSM (for example white vs other ethnicities, city dwellers vs rural/remote, those born in New Zealand vs immigrants).5  Barriers to accessing PrEP may include poor access to free sexual health clinics, or to GPs who can facilitate initial prescribing or provide repeat prescriptions; GP consult fees may be prohibitive for high-risk non-enrolled patients who live in areas without free sexual health clinics.
Insufficient PrEP prescribing capacity
In a survey by the NZAF, GPs said that the PrEP prescribing process is "too complicated" with "unknown or increased impact on practice capacity". 6 Despite online training modules being made available for GPs, there are still too few accredited PrEP prescribers to initiate treatment, and secondary care sexual health services are stretched in many areas.  
Reduced condom use
An unintended consequence of PrEP is peer pressure to take PrEP and forgo condom use. Data from gay and bisexual men in Melbourne and Sydney show a rapid uptake in PrEP occurred alongside an equally rapid decrease in consistent condom use;7  anecdotal reports point to similar trends in New Zealand.
Higher rates of STIs among PrEP users
People taking PrEP have a higher rate of intercurrent STIs than those relying on condoms for HIV prevention. This is not fully explained by the increased frequency of screening for PrEP users. A meta-analysis found an almost 60% higher rate of rectal chlamydia among PrEP users, and a 24% increase in any STI diagnosis, compared with those not taking PrEP.8
On-demand use and PrEP 'failures'
PrEP 'failures', or new diagnoses of HIV while taking PrEP, have been reported, though often these occur in people who are taking PrEP in an 'on-demand' pattern (i.e. not taking it every day). However, cases of multi-drug resistant (MDR) HIV have been diagnosed in patients with high adherence to daily PrEP. This highlights the importance of ensuring a negative HIV test every time there is a repeat prescription of PrEP; using PrEP in HIV-positive patients will drive selection of MDR HIV strains.
This MedCase was created in 2019 by Dr Vicki Mount, MBChB DipPaeds, and reviewed by Dr Massimo Giola, Infectious Diseases and Sexual Health Consultant, Clinical Lead Sexual Health Service, Bay of Plenty DHB.
Recognition of Learning Activities
Don't forget to log your time with The Royal New Zealand College of General Practitioners portal for recognition of learning activities.