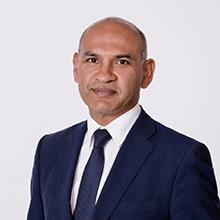 Musculoskeletal Pain Specialist
PhD, MBChB, PGDip Musmed, MMGT, PG Dip Businfo, FAFMM, FRNZCGP
Giresh is a Musculoskeletal Pain Specialist and Researcher. He explored the sensory amplification of pain in his PhD including the role of the human stress response. He has presented in NZ, Australia, Tahiti, USA and Europe.
He is an honorary senior lecturer at Auckland University, the chairperson of the NZ Pain Foundation and editor of Australasian Musculoskeletal Medicine. He is the author of "Fix Your Back", "Fix Your Neck Pain, Headache and Migraine" and his new book released in July 2019 "Brain Connections: How to sleep better, worry less and feel happier". Brain connections reached several NZ Neilson Bestsellers Lists.
He consults at Gilgit Road Specialist Centre and is conducting research on sensors and apps for depression and spinal pain at Auckland University.