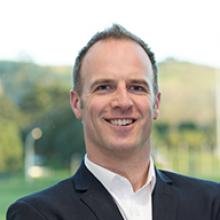 Sport and Exercise Physician
MBChB, MMedSci, FACSEP
Mark is a Sport and Exercise Physician and the managing partner at Axis Sports Medicine Specialists in Auckland. Mark has worked extensively in sport and exercise medicine and is especially interested in injury prevention and the treatment of concussion. He works closely with ACC and is part of their Sports Collaboration Group which released the Concussion Service Guidelines for medical providers in NZ.
Mark is the Medical Director at New Zealand Football and previously of New Zealand Netball and the ITU Work Championship Triathlon event. He is on the FIFA medical committee and was a stadium doctor at the 2018 Football World Cup in Russia. Mark has worked at sporting events from the FIFA World Cup, Rio Olympics and closer to home at the Rugby World Cup and the ASB Classic Tennis Tournament in Auckland.
He continues to be involved with Sports Medicine education, regularly contributing as a guest speaker/lecturer at universities and sports medicine meetings around the country. He is currently the Editor of the FIFA Football Medicine Diploma.