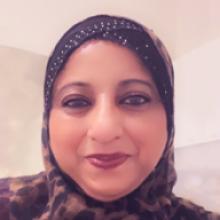 My full name is Dr Nosheen Sheikh. I am 53 years old female of Pakistani origin, Muslim by religion, and a mother of two children. I am a New Zealand Citizen and have been living in NZ (as my homeland) for almost 22 years.
I graduated from Jinnah Sindh Medical University (JSMU) Karachi, Pakistan and obtained MBBS degree in 1994. I completed my postgraduate training at the Medical University of South Africa (MEDUNSA), Pretoria and obtained M.Med (Psych) degree in 2001. I was registered as a medical practitioner and specialist psychiatrist with the Medical Council of New Zealand (MCNZ) in September 2001 and I have been vocationally registered in the general scope of psychiatry since April 2003. I am also an Affiliate Member of the Royal Australian and New Zealand College of Psychiatry (RANZCP) since January 2002 and an International Fellow of American Psychiatric Association (APA) since 2016.
I have worked with and for Community Mental Health/ Recovery Teams, Inpatient Psychiatric Units, Crisis Team/ Acute Resolution Services, Māori Mental Health, Maternal/ Perinatal Mental Health, Adolescent Mental Health, Mental Health Services for Older Adult, and Forensic Psychiatric Services.
My areas of interest are mental health through spirituality and faith, nutritional psychiatry, women and infant mental health, youth and adolescents mental health, trauma and disaster management through spiritual exercises, relationship counselling and psychotherapy (including CBT, mindfulness and spiritual therapy).