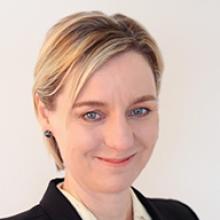 Senior Lecturer, The University of Auckland
Fiona divides her time between the Auckland Medical Programme and her private education business, Connect Communications, which specialises in communication, supervision, and wellbeing training. Connect was established in 2001 and works with national health professional bodies such as the Medical Council of New Zealand, the New Zealand Pharmaceutical Society, the Veterinary Council of New Zealand, and the New Zealand Dental Association.
At the University of Auckland, Fiona undertakes research, runs the wellbeing curriculum for medical students and has created comprehensive pastoral care policies and care pathways for the Medical Programme, and is involved in wider University wellbeing initiatives.
Fiona's background is in General Practice, and her PhD is in student wellbeing. She is one of the co-authors of the CALM website, and in 2018, she won the University of Auckland Vice-Chancellors Excellence Award for Health, Safety and Wellbeing. She has co-designed and led HOTSPOTS, the anti-bullying initiative which won a New Zealand Work Health and Safety Award in 2022. She has published widely and regularly presents at plenary sessions or runs workshops at academic conferences, as well as working with industry groups across New Zealand and Australia.