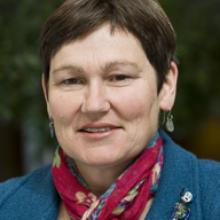 Ngaire Kerse is a GP in Auckland, Professor of General Practice and Primary Health Care and Head of the School of Population Health, University of Auckland. After training in primary care in New Zealand, Australia, and the USA, completing a Geriatric Medicine Fellowship at the University of Pennsylvania, and a PhD at the University of Melbourne, she has built a programme of research throughout New Zealand over the last two decades.
Research areas include promoting activity and function in residential care, residential care organisational culture and outcomes, promoting physical activity in community-dwelling older people, activity for depression in the very old, staying upright (preventing falls and injury) in older people in all settings, improving prescribing in primary care, and a large cohort of Māori and non-Māori in advanced age.
Ngaire is a member of expert advisory and steering groups for the Health and Quality Safety Commission on preventing harm from falls, the Ministry of Health on comprehensive assessment techniques and roll out of the InterRAI. She leads the community theme for the Brain Research New Zealand (Centre of Research Excellence) in the University of Auckland and works as a GP at the Auckland City Mission.