This diagnosis leads to much anxiety for women and their families. If you exclude physiological cysts, around 10-20% of women are affected.
Anil will cover common presentations, the physiological, the pathological, and the harbingers of other problems including infertility, pain, mass effects, and malignancy.
Presenter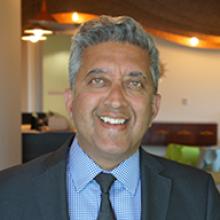 Dr Anil Sharma
Gynaecologist
MB ChB (Leicester), DGM Dip Legal Med (Cardiff) FRANZCOG FRCOG
Anil has been a Gynaecologist in New Zealand for 23 years and is now based at Ascot Central after working at CMDHB and WDHB for many years.
His areas of expertise with skills honed during a long apprentice-based training include advanced laparoscopic, hysteroscopic, vaginal and abdominal surgery. He offers management of ovarian cysts, endometriosis, abnormal uterine bleeding, post-menopausal bleeding, fibroids, prolapse, and urinary incontinence.
Anil has a network of allied interdisciplinary colleagues to ensure the best results possible and has the largest national experience of endometrial ablation.
His GP-trainee and medico-legal background has been a highly enjoyable and valuable foundation for his medical career and empathic, consent-based approach.
Anil is the Gynaecology expert for 'Research Review' and is as active as COVID has allowed in postgraduate education. He also provides medico-legal opinions. He is part of 'Mothers Matter' a national charity that advocates for new mums and their families and is on the board of a large girls' school in Auckland.
Anil is married to Rachel Jones who is a GP and has 3 teenage daughters and a loveable Schnauzer Luis.