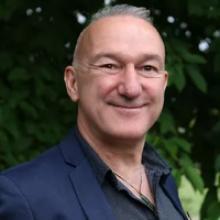 MRCPI FRNZCGP FDRHMNZ  

Buzz completed general physician training in the UK before emigrating as a respiratory research fellow and lecturer for the University of Otago 1992.
The excitement of rural hospital medicine and primary care saw a one-year sabbatical mature into 8 years at Reefton on the West Coast, and occasionally the Chatham Islands, and then remote rural hospital and general practice in Western Australia until 2006.
Unexpected achievements include - Lecturer of the year in Dunedin 1993; runner up New Zealander Of The Year in 1997.  
In 2012, Buzz established a semi-rural General Practice in Renwick, 10 km outside Blenheim; spent 8 years as GP Special interest in Chronic Pain in Nelson, and is currently a pain fellow in Auckland, and Regional Coordinator and senior lecturer for the University of Otago Rural Medical Immersion Programme.
He is a very slow ocean swimmer, a Harley rider, and has been known to socially enjoy a glass of Shiraz– (not at the same time).