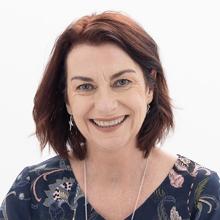 Practitioner in Psychoneuroimmunology
BEd. Dip Tch. 
Licensed, registered Practitioner of the Lightning Process Training (Psychoneuroimmunology) 
After her daughter became 100% well from CFS/ME using the Lightning Process training, Jenny left fulltime teaching of 30 years, to qualify and teach the Lightning Process® around NZ and Australia. 
She is a registered teacher with a Bachelor's degree in Education and a Masters in Coaching, NLP and Anatomy Physiology with an Integrative Somatic Trauma Therapy Certificate. 
Jenny is an uplifting and inspirational educator, known for her innovative teaching and coaching style, and her compassionate ability to recognise the potential and possibilities within everyone.