Atopic dermatitis is a chronic, relapsing inflammatory disease that requires individualised, multimodal treatment to hydrate the skin, relieve symptoms and reduce cutaneous inflammation. 
This MedCase looks at tacrolimus ointment (brand name: Zematop®) for use in the treatment of flares of moderate to severe atopic dermatitis, and for maintenance and prevention in patients with a high frequency of atopic dermatitis exacerbations.
Miss H is an 8-year-old Māori child with a history of moderate atopic dermatitis. Her Aunty brings her to see you with a flare of her facial eczema.
On exam, she has red, dry, thickened patches around both eyes and chin, consistent with atopic dermatitis. There are similar patches in the antecubital and popliteal fossae. There are no blisters or exudate.
You review her current skin regime. She is using cetomacrogol most days plus hydrocortisone butyrate 0.1% (Locoid™) on the body and hydrocortisone 1% cream on the face.
Aunty T, her main caregiver, is well-educated about eczema treatment, having managed other kids with similar skin issues. However, she reports she is struggling to control Miss H's facial eczema and asks if there are any new treatments since the facial patches are embarrassing and Miss H doesn't want to go to school.
What is the next best step for Miss H?
What is tacrolimus?
Tacrolimus is a derivative of Streptomyces tsukubaensis, a fungus first found in soil near Tsukuba, Japan in 1984.1 It is an immunomodulator that is used systemically to prevent post-transplant organ rejection or topically for atopic dermatitis and a number of other dermatological conditions.
Tacrolimus ointment (brand name: Zematop®) is indicated for use in the treatment of flares of moderate to severe atopic dermatitis and for maintenance and prevention in patients with a high frequency of atopic dermatitis exacerbations, i.e. 4 or more times per year.2,3 It is used twice daily until symptoms improve.
In New Zealand, tacrolimus is approved by Medsafe for use in in adults and adolescents 16 years and older. However, real-world data support the use of tacrolimus topically in children down to the age of three months when used over small surface areas (<10cm2) – i.e. central face use only. This would form an "off-label" use of the product.
Another fungal-derived calcineurin inhibitor, pimecrolimus (brand name: Elidel®), is available as a cream. It is indicated for use in patients from age 3 months with atopic dermatitis. 
Mechanism of action
Tacrolimus has immunomodulatory and anti-inflammatory actions.4 It diffuses into the T-cell cytoplasm and binds a protein receptor called macrophilin-12, forming a drug-protein complex that inhibits calcineurin phosphatase. This blocks T-cell activation, preventing gene transcription encoding key molecules involved in inflammatory skin conditions, including interleukins, TNF-alpha, IFN-gamma, and granulocyte-macrophage-colony-stimulating factor.1 Tacrolimus also reduces Langerhans cells and acts directly on keratinocytes to down-regulate IL-8 cytokine receptors, thereby reducing inflammation.4
Tacrolimus significantly improved atopic dermatitis symptoms in patients aged 2 years and above, with the effectiveness maintained after 12 months of twice-daily use.4 Tacrolimus is approved in the US, Japan and UK for treatment of atopic dermatitis in children from age 2 years; in New Zealand the Medsafe-approved minimum age is 16 years.2
Side effects
The calcineurin-inhibitors do not induce skin atrophy, making them safe for long-term use.4 Unlike betamethasone valerate 0.1%, topical tacrolimus 0.1% and 0.03% did not reduce collagen synthesis or skin thickness compared with vehicle in trials with healthy volunteers and patients with atopic dermatitis.4
The most common adverse events are burning and pruritus. These are typically mild to moderate in severity, last for a maximum of 2 hours, and improve over time with continued use. Should treatment be discontinued and then restarted at a later date, the same side effects will develop and follow the same time course to improvement.4
Long-term safety of tacrolimus has been demonstrated in children as young as 3 months when used over small surface areas such as the central face.
Increased skin infections in patients using topical calcineurin inhibitors have not been observed in practice, though temporary discontinuation is recommended if infections occur. Skin infections (including fungal dermatitis, herpes simplex, warts and bacterial infections) occurred with similar incidence in trial patients receiving tacrolimus vs placebo. Moreover, studies have shown that Staphylococcus aureus colonisation decreased with improvement in eczema in tacrolimus users, indicating improved skin barrier function with ongoing use.4
Accessing funded calcineurin inhibitors
Tacrolimus 0.1% ointment 30g (Zematop®) and pimecrolimus 1% cream 15g (Elidel®) are funded under Special Authority for patients with atopic dermatitis on the face and/or eyelid with contraindications to topical corticosteroids. There must be at least one of the following contraindications to topical corticosteroid use:
Periorificial dermatitis

Rosacea

Epidermal atrophy

Allergy to topical corticosteroid

Cataracts

Glaucoma

Raised intraocular pressure
Be mindful of some fishhooks in the Special Authority criteria:
GPs cannot initiate the Special Authority for either medicine without recommendation from a dermatologist or paediatrician; use Specialist Advice to communicate with your local secondary service if prescribing may be appropriate;

Tacrolimus 0.1% ointment is funded for use on the face; pimecrolimus 1% cream is funded for use on the eyelids only;

Special Authority criteria allow only one 30g tacrolimus 0.1% ointment or one 15g pimecrolimus 1% cream per prescription (i.e. one tube every 3 months). Additional tubes will cost patients $50-60 each. Consider reserving calcineurin inhibitor treatment for use on the central face to avoid patients running out early; use topical corticosteroids on the body and off the central face when possible.
Which calcineurin inhibitor is best?
Tacrolimus 0.1% ointment may be more effective than pimecrolimus 1% cream for treatment of moderate atopic dermatitis, based on a meta-analysis.5 The two formulations have similar safety profiles with the incidence of common adverse events (skin burning and pruritus) similar to vehicle.
Other distinguishing features that may be helpful when considering treatments are:
Potency: tacrolimus 0.1% ointment is akin to triamcinolone acetonide 0.02% (Aristocort ™) or hydrocortisone butyrate 0.1% (Locoid ™) while pimecrolimus 1% cream is similar to 1% hydrocortisone;
Formulation: tacrolimus 0.1% is an ointment with a petroleum jelly-like base (so feels greasy) while pimecrolimus 1% is a cream;
Value: tacrolimus 0.1% ointment comes in a larger 30g tube versus pimecrolimus 1% cream in a 15g tube;
Patient age: tacrolimus 0.1% ointment is currently indicated for patients aged 16 and over while pimecrolimus 1% cream is indicated from age 3 months. However, in clinical practice tacrolimus 0.1% ointment is often used off-label in younger ages down to 3 months without significant side effects.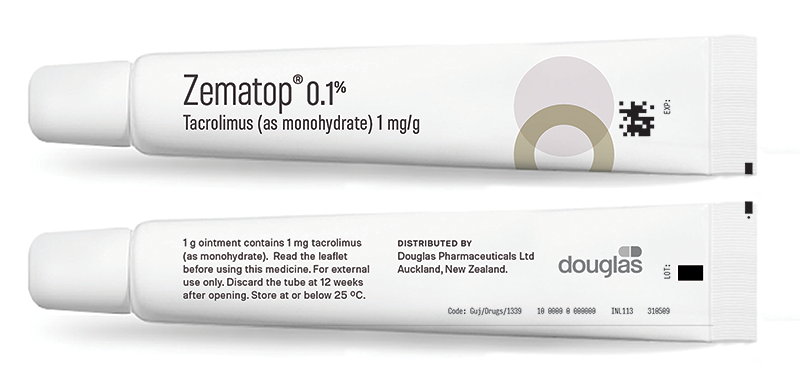 You consider tacrolimus 0.1% ointment may be a good option for Miss H, as you can see she has had dermatitis in the past following facial corticosteroid use. You review the pros and cons of treatment with Aunty T and Miss H, and they are keen to trial it.
You request advice from your local dermatology department on the suitability of treatment and receive a reply with Special Authority activated for Miss H.
What is your advice on how to start using it?  
Prescribing pearls
Tacrolimus  0.1% ointment should be applied twice daily with an improvement in skin appearance expected within one week. There is no maximum duration of therapy; continue until the skin heals.
Tacrolimus 0.1% ointment can be used on known hot spots to prevent flares of atopic dermatitis. Apply once daily, twice per week. Review after 12 months. This is known as the maintenance phase and has been shown to reduce frequency and severity of flares without an increase in adverse events.
Burning and stinging are the most common reasons for early treatment discontinuation. Warn patients and caregivers that these symptoms may occur but will likely be short-lived and improve quickly with continued use. If they take a break from treatment, it may recur.
Keep the treatment regime with treatments for each body area, for example:
Tacrolimus 0.1% ointment around the eyes and mouth;

Triamconolone acetonide 0.02% (Aristocort™) in adults, or hydrocortisone 1% in children, for the face;

Usual corticosteroid from the neck down;

Moisturiser all over.
Miss H and Aunty T are happy with the plan and agree to start immediately. You send Aunty T a link to the Health Navigator patient information and ask her to contact you if they notice any side effects.
Three weeks later, you review Miss H and can see a marked improvement in her facial lesions. She is back at school.
You arrange a review with your nurse-led eczema clinic in 8 weeks to review the regime again and ask Aunty T to bring Miss H back sooner if there are any flares. 
Off-Label Uses
There is evidence that calcineurin inhibitors are effective in other skin conditions, particularly those that respond to topical corticosteroids.1 These include:
Periorofacial dermatitis, alongside oral antibiotics;

Psoriasis or other inflammatory dermatosis on the face;

Vitiligo on the face. The immunomodulatory effect allows melanocytes to restart pigment production. Use twice daily as an alternative to constant corticosteroid treatment and expect a response within 4 weeks. It can also be used from the neck down using Daivobet™ ointment/gel daily to the vitiligo patches for 1 week, then tacrolimus 0.1% ointment twice daily for 1 week. The alternate week application can be continued without risk of skin atrophy. If there is no improvement after eight weeks, then a response is unlikely; discontinue use. Also note that vitiligo responds best in hair-bearing areas; in areas without hair follicles (distal limbs), response is often poor.
This MedCase was written by Dr Vicki Mount ( MBChB FRNZGP), with expert review by Dr AJ Seine, Dermatologist, BSc, MBChB, FRACP, NZDSI.
Recognition of Learning Activities
Don't forget to log your time with The Royal New Zealand College of General Practitioners portal for recognition of learning activities.