Rosuvastatin is an HMG-CoA reductase inhibitor (statin) that reduces low-density lipoprotein cholesterol (LDL-C) levels. From 1 December 2021, it became fully funded for the management of cardiovascular disease and familial hypercholesterolaemia for patients meeting Special Authority criteria.1 
This Medcase describes the safe prescribing of rosuvastatin for the prevention of cardiovascular disease.
Mrs R is a 73-year-old Māori woman. You last saw her 4 weeks ago for a repeat of her Symbicort inhaler and noted that her cardiovascular disease (CVD) risk assessment was overdue.
She was well with blood pressure 134/76 mmHg. She lives in a quintile 4 region, is an ex-smoker who quit over 20 years ago, and has no personal history of cardiovascular disease or familial hypercholesterolaemia. Her father had a myocardial infarction at age 59 years and her mother had a stroke at age 67 years.
Mrs R's last blood tests were over 18 months ago, so you asked her to repeat them then return to discuss CVD prevention. In the meantime, Mrs R agreed to trial some lifestyle changes, including aiming for five 30-minute walks per week, replacing butter with olive oil for cooking and including 1-2 plant-based meals per week to reduce intake of saturated animal fats.
Today, Mrs R is feeling well. She tells you she has found the lifestyle changes mostly manageable and is enjoying trying new plant-based recipes. On examination, she has a regular radial pulse of 78 bpm, blood pressure 128/78 mmHg, weight 83.9kg, height 168.5cm, and BMI 29.6. Other blood test results, including HbA1c, TSH and renal function are normal.
Her lipid profile: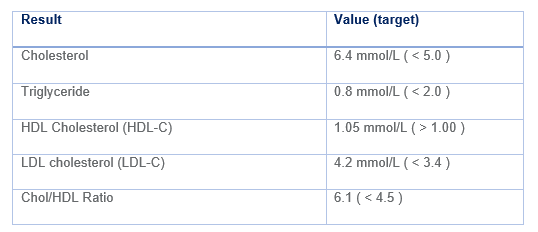 You use the PREDICT tool to estimate Mrs R's 5-year cardiovascular disease (CVD) risk, which is 14%. What treatment strategy do you recommend?
Statins for primary prevention of cardiovascular disease
As per the New Zealand Cardiovascular Risk Assessment and Management guidelines, patients with a CVD risk of between 5 and 15% should be offered dietary and lifestyle interventions along with consideration of lipid-lowering or blood pressure-lowering pharmacotherapy, based on an individualised assessment of risks and benefits.2
A discussion of dietary and lifestyle modification is beyond the scope of this MedCase but further information can be found in the Cardiovascular Disease Risk Assessment and Management for Primary Care.2,3
Statins are the preferred first-line medications for lipid management, for both primary and secondary prevention of CVD events.2,4,5
Multiple, robust clinical trials have demonstrated that statins reduce the risk for nonfatal myocardial infarction, ischemic stroke, need for revascularization, and cardiovascular and all-cause mortality.5 They have also been shown to stabilize and even regress established atherosclerotic plaque. Each 1 mmol/L reduction in LDL-C confers a 25% reduction in relative risk of CVD events over 5 years.3 Reductions in LDL-C of >50% can be achieved in people with baseline LDL-C of >4 mmol/L, and CVD risk continues to decline commensurate with LDL-C with no evidence of waning risk reduction even at very low levels of LDL-C.2
In addition to diet and lifestyle changes, Mrs R could benefit from lipid-lowering therapy. Current guidelines recommend a target reduction in LDL-C of at least 40% i.e. target LDL-C of 2.52 mmol/L.
Getting to the heart of inequities in CVD prevention
The burden of CVD and related mortality and morbidity is inequitably distributed in New Zealand. The rate of mortality from CVD is more than double for Māori than for non-Māori (RR 2.17, CI 2.08–2.26), and hospitalisations for CVD are over 1.5 times more common for Māori.6 
Māori and Pacific peoples have greater exposure to CVD risk factors compared with other ethnic groups in New Zealand,7 yet are less likely to be prescribed statins for secondary prevention of CVD.8
The pro-equity Special Authority criteria for funding rosuvastatin aims to address these inequities by making rosuvastatin available as first-line therapy for any Māori or Pacific patient at risk of cardiovascular disease.
You congratulate Mrs R on her success in implementing the dietary and exercise changes so far. However, you explain that further interventions are likely needed to reduce her cholesterol, and therefore her risk of heart attack or stroke.
Together, you use the CVDRA online decision aid (available via the practice management system) to illustrate that 14 of 100 people just like Mrs R will have a CVD event in the next five years. Reducing her LDL-C to 2.8 (a 40% reduction) would reduce this to 11 of 100 people.
Mrs R is open to the idea of medication, and asks which one you would recommend.
Recognition of Learning Activities
Don't forget to log your time with The Royal New Zealand College of General Practitioners portal for recognition of learning activities.